Yesterday I posted about my 99 cents cashmere cardigans....Today I will show you what I did....
I used fusible interfacing, a lid, and scraps of material that Drama Queen picked out. She really wanted burlap for the beige cardigan! I am not sure where she gets that from (wink)!
I cut out 13 circles and ironed on the fusible interfacing according to the instructions on the package.
I sewed a tight zig zag seem all the way around each patch. I did have to hand sew 2 of the patches on the black sweater due to the fact that I couldn't get the sleeve into my machine (tiny sleeve).
I added 2 patches to some areas just for looks. Drama Queen picked out burlap and a pink/green check for the beige sweater and 3 different black and white pattern for the black sweater.
Holes are covered and they turned out pretty cute!
Drama Queen came home from school and wanted to model her new sweaters!
Guess we should have brushed her hair! LOL
Oh and we are going to be busy doing this....
Passing out all the cookies she sold!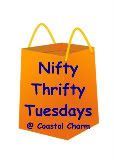 An old post but I am joining Prior for Prior Lives Party!
Update:
Drama Queen loves wearing these sweaters! She came home one day to say that she had taken off her sweater and a boy stepped on it. She told me that he obviously didn't realize it was a cashmere sweater!